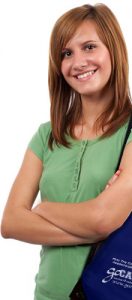 Protecting an individual's privacy, especially when it involves the privacy of children and young adults, is very important to all of us at goCAMPUSing. We respect that right and do our best to treat any and all information supplied to us, in order to perform our tasks and supply our clients with the quality services they expect, with purposeful intention to protect an individual's privacy as much as we can, while that information is under our control. Although goCAMPUSing suggests that site advertisers also maintain similar privacy guidelines, we cannot guarantee a similar degree of attention and we strongly suggest always reviewing the privacy statements of any website you visit.
Unless otherwise stated, authorized, or required to give information to a third party vendor to perform tasks to fulfill the services provided by goCAMPUSing, goCAMPUSing will not sell or share this information provided to us with any outside unrelated entity.
Be advised that, as with all websites, goCAMPUSing does automatically collect non-personally identifiable information on all visitors to the goCAMPUSing website in order to compile and analyze statistical information regarding the general geographic regions site visitors are coming from, the modes in which they found and entered the site, the duration of visits, the pages visited, and other trending information. goCAMPUSing collects and reviews this generalized information to continually refine and improve its website to offer a premier online experience. In order to better market our services to our visitors and to perform online payment of services, should a visitor want to purchase a goCAMPUSing service(s)/tour(s), goCAMPUSing may leave an electronic marker on your computer, called a "cookie/pixel" in order to process your registration and online payment.
goCAMPUSing will collect personal information in the tour registration process, we require this to provide our services and process an online payment. Currently, goCAMPUSing's e-commerce provider is Pay Pal. Pay Pal will require personally identifiable financial information — your credit card/bank card information, in order to process your payment. Pay Pal provides the highest in encryption technology, SSL and/or SET, in order to protect the information supplied to them.
goCAMPUSing strongly suggests not to use simple email to forward any financial information to goCAMPUSing. goCAMPUSing's Contact Us email forms are not encrypted and advise you use alternate means of sending goCAMPUSing financial information.
goCAMPUSing strives to protect the information supplied to us, however, goCAMPUSing in compliance with any authorized US local, state, or federal law enforcement agency, will cooperate with any authorized officials in supplying information, (including personal and/or private information), for the purposes of complying with applicable laws and/or with the intent to protect the health and well being of an individual, or to investigate a possible crime. goCAMPUSing also reserves the right to disclose information in the course of its own protection, including the taking of legal actions against persons or entities. We may also release this information in the case of a corporate purchase or merger, where all information collected will be transferred to the purchaser or new company.
goCAMPUSing does not seek to solicit information from anyone under the age of 13, (a child). We encourage all parents and legal guardians to monitor, supervise, and join their children in all online activities.
goCAMPUSing reserves the right to change the terms of this Privacy Statement at anytime without notice. We will post the latest revision date on this website. We encourage all visitors to review this Privacy Statement to understand our policies and keep informed of our latest policy revisions.
This goCAMPUSing Policy Statement was last revised on:
JUNE 01, 2011
If you have any questions regarding this goCAMPUSing Privacy Statement, please feel free to write to us at:
Privacy Statement Inquiries
Web-Services Coordinator
goCAMPUSing
Post Office Box 264
East Norwich, New York 11732