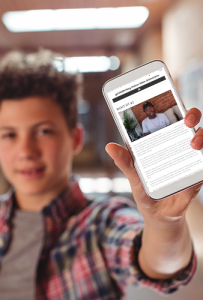 The next best thing to an actual college campus tour is goCAMPUSing's Online Streaming Video Programs – COLLEGE PRE-REQUISITE and COLLEGE RECON – a perfect remedy for not being able to visit campuses in person.  goCAMPUSing's Online Streaming Video Programs fit into In-Person Classes, Remote Teaching and a Blend/Hybrid of them both.  Not only are these streaming videos dynamic and extremely educational, but they are hosted primarily by college students and recent college graduates delivering personal stories and sharing insightful information that college bound junior and senior high school students want and need to know.  And these kids need this information – now more than ever.
COLLGE PRE-REQ and COLLEGE RECON works on Desktops & Laptops, Tablets, Smart Boards, Cell Phones, and through Video Conferencing Platforms like: ZOOM, Microsoft TEAMS, and Google MEET.
Read More
College Pre-Requisite (Pre-Req) offers dynamic online streaming video presentations from actual college students offering valuable information about how to select colleges to apply to; how to find the colleges with their "right fit" academically, socially and financially;  the college basics;  the 101 of college life, and a high school college counselor's step-by-step breakdown of the how to's of Financial Aid including the complexity of the real costs of going to college and how to work through the FAFSA form.
College Recon (ReCon) are streaming online video modules of college "spotlights".  Unlike so many dizzying virtual online videos, goCAMPUSing's ReCon Streaming Videos answers questions that so many students who have participated in our hundreds of actual college campus tours ask; and in addition the goCAMPUSing's college presenters provide the viewer with an understanding of a college's vibe.  Not just a static video of someone describing the campus.
goCAMPUSing's  ReCon will offer select college campus spotlights by region.  Some of the college campuses to be "reconed" will include: Princeton, Temple, Lehigh, Boston University, Drexel, MIT, Georgetown, George Washington, Howard, Morgan State, Morehouse, Yale, Brown, Harvard, and many others.  Regional campuses across the country will continually be added.
goCAMPUSing knows that NOTHING beats having high school students physically tour college campuses, to see and experience college for themselves, but goCAMPUSing's COLLEGE PRE-REQ and COLLEGE RECON are the next best thing.
To learn more and to arrange a COLLEGE PRE-REQ and a COLLEGE RECON Online Streaming Video Program – email us OR CALL – 1 (516) 941 – 6992  – business days –  Monday through Friday – 10 AM through 4PM Eastern Time.
We look forward to hearing from you.
Let's do it for the kids!